I swear, I think country music stars have the biggest hearts!
This story is one that shows humanity, compassion and kindness are not lost traits destroyed by the constant movement of life. Often times when stars are at meet and greets they cannot spend as much time as they want to with each fan as there are literally hundreds lined up just to shake their hand. It can be a daunting task for the artist to balance the expectations of the fans with the limits of their own exhaustion.
Yet nothing stopped Lauren Alania from taking the time to make AJ Hillebrand's day.
AJ, who has been blind since he was born, was waiting in the autograph line to meet Alaina with his mom, Heather, at the B100 Birthday Party Sunday (Aug.27) at the St. Joseph County Fairgrounds in South Bend, IN. As they reached the front of the line, without any prompting at all, Alaina knelt down to meet the young fan. In an instant, the singer had taken AJ's hands and placed them on her face, allowing him to 'see her.'

"My heart melted the fact that she already knew, or could just tell, literally made me tear up immediately," Heather told Sounds Like Nashville. "The fact that she took so much time with him when she had a long line of people waiting was amazing."

"AJ is still saying she's in his heart forever (with Jesus). He was so happy," she continued. "He was also super tired at this point in the day but he woke right up when she started talking to him. He is a very humble little boy. He is also young so he is just like 'mommy, why is everyone talking about me?' I tell him because he is a very special little boy and what Lauren Alaina took the time to do with you was very special. He just smiles really big and says 'she kissed me.'"
The connection made between this artist and fan is one AJ will not soon forget and the impression it has made on everyone that hears it gives us a little bit of hope that humanity is going to be okay.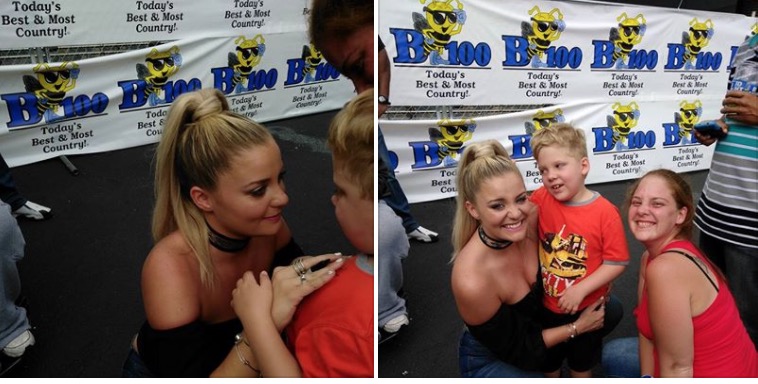 Source: The Boot